If you are a small business owner, chances are high that you've at least heard the term "SEO." The acronym stands for Search Engine Optimization, which means optimizing your website and content to increase organic traffic; a fancy way of saying adding keywords to your website to make it more likely to show up in searches and make it easier for potential customers to find you.
SEO isn't just about quantity of keywords, though — it's also about quality of content. Yes, we all want more traffic, but you want the people that visit your website to actually be interested in what you have to say and/or sell.
How SEO Works
In short, search engines like Google have "crawlers" or bots that comb through all of the content on the internet, including your website. The crawlers use the information they find to create an index that is then tied to an algorithm that makes similar results pop up when you search for something.
According to Moz.com (a great resource for all things SEO!), there are several factors that search engines use to determine the order (or ranking) that websites are featured from a search.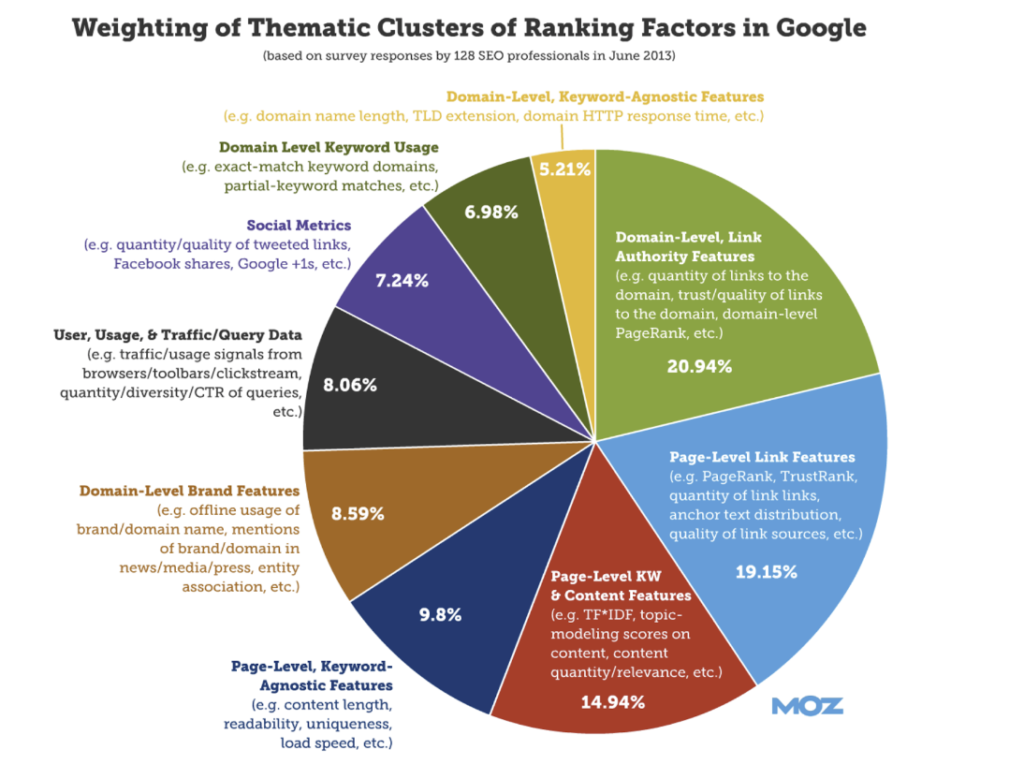 How to optimize your website
The whole reason we think about SEO is to make it easier for search engines to find you, which in turn makes it easier for potential customers to find you. While you can always hire an expert for some of the more complicated SEO tasks, there are a few easy things you can do on your own right now.
1. Figure out the keywords your audience is searching for.
You know what you sell, what problem you solve, and who your audience is, so get in their brains. If they were looking for you, what would they search for? If you need help figuring it out, Ubersuggest and Answer the Public are two useful tools. You can search for keywords for your website as a whole (about, sales pages, etc.) and for the pieces of content you put up on your blog.
2. Incorporate the keywords into your website and blog.
Once you find a handful of keywords, include them in your headlines, headers, throughout your copy, in the meta descriptions, etc. The trick here is to use them as naturally as possible. If the purpose of SEO is to drive traffic to your website, you don't want to lose potential customers because you just threw together a bunch of keywords without delivering any real value.
If your website is built on WordPress, Yoast SEO is a helpful plugin for keyword optimization, indexing, readability, and more on your blog.
3. Don't forget about the URL.
Be sure to customize your URL for each blog post as well. Many sites either assign a random URL to the blog post or just use the title, but you can edit it to either take out words that aren't relevant in the title or change it completely.
For example, if you wrote a blog post titled "9 Questions to Answer When Choosing a Dog for Your Family," you may edit the URL to www.yourwebsite.com/best-family-dog so that it only includes the main keywords.
4. Make the most of links.
First, don't go crazy linking to other pages on your website or in your blog posts. External or outbound links do boost your value with search engines because they recognize that you are crediting someone else for more information, but can make it confusing to the reader if there are too many blue links — and worst of all, it takes them away from your site.
Only add links when they are relevant and make sure you link to the keywords within that phrase. It's easy if you're linking to a specific source (like we've done above) or study, but if you're writing about a statistic, you'll want to link to the most relevant keywords in the sentence. Here's an example that includes both, from our article "7 Reasons why your business needs a website": "According to a study by the Local Search Association, a whopping 63% of consumers look for businesses online before deciding to buy from them, yet a third of small businesses don't even have a website."
5. Don't forget about photos.
High-quality photos will enhance your website and blog posts, but it's equally important to add "alt tags" to them for SEO purposes. An alt tag or alt description is copy that shows up on your site if the image doesn't load, helps readers with visual impairments, and is another component that the search engines crawl to rank your website.
Depending on how your website is built, you may have to find the alt tag in the HTML or it may be as easy as adding it when you upload the photo. Either way, consider these tips from HubSpot:
The description should make sense, not just be stuffed with keywords.
The description should be specific and actually describe what is going on in the photo.
It should be fewer than 125 characters (CharacterCountTool.com is an easy way to check this.)
Just describe the photo, don't worry about starting with "Photo of…"
6. Make your site accessible.
Last but not least, don't turn off potential customers because your website is difficult to navigate. A good site has the following characteristics:
Loads quickly. You have to get the reader's attention right away or they will leave your site and might not ever come back.
Is mobile-friendly. Customers who have a negative experience with your website on their phone are 62% less likely to buy something from you in the future. Again, a poor experience means they're not likely coming back.
Has a security certificate (https). This legitimizes your website and builds trust.
The links work. You can't help it if a website goes offline or a link is changed, but always double-check the links before you publish to make sure that they are correct.
Consistent and correct contact information. Your name, address, and phone number should be exactly the same everywhere it appears on the web.
There's a lot that goes into optimizing a website, but just take it one step at a time. Create a checklist and set aside time to go through each section of your website.
If you want to hire a professional to help with your website, SEO, or creating content, contact us for a quote.
Ready to start your project?
Download Our Free Guide - "Content That Connects"
A fresh look at content should be the starting point for anyone beginning a website project - whether it be a website refresh or a new site.
Download "Content That Connects," and you'll receive a full guide to getting started with your website project by looking at your content. You'll learn how to talk about your business, your services, and your value. All of this will help you think through the strategy behind your website.