The cost and challenge of getting someone to visit your website has ballooned over the last few years.
If you're using Facebook ads to attract traffic, for example, the average cost for a click (CPC) from that platform has jumped as much as 171% year over year. And Google Ads have more than doubled from just a few years ago.
Even organic search, with its 'no-click' results and competitive keywords, has become a tough field on which to play.
That trajectory is not likely to change any time soon.
So if it's more costly to get people "in the door", then it's more important than ever that you increase the number of visitors that buy. Even a little boost can make a big difference.
Let's say your average order value (AOV) is $500 and you have 1,000 unique monthly visitors to your website. A 1% increase in buyers will net you an extra $5,000 a month in sales.
Not too shabby. And the best part? You may be able to get that $5k/month boost with a few minutes of effort and zero extra marketing dollars.
How you do it is the crux of conversion rate optimization (CRO).
Because of its impact on revenue, CRO has become an entire field of study unto itself. Here we'll cover the basics and offer eight best practices you can start right now to boost your website conversions.
What is Conversion Rate Optimization?
Let's break this down.
On your website, a conversion is when someone takes a desired action.
Sure, the biggie here is making a purchase or scheduling an appointment or demo. That's your macro conversion.
But that's the final step of a marathon. Or maybe a sprint if things are going really well.
Before that macro conversion happens, there are likely multiple micro conversions. While not as exciting as getting a new order, those micro conversions are important to nail.
Why? Because most people visit a website multiple times before making a purchase. In fact, a study by Episerver revealed that a whopping 92% of people visit a website the first time to do something other than make a purchase. Micro conversions keep them moving through your sales process, even if it's over the course of several website visits.
Here are some examples of micro conversions you'll want to consider:
Reading an article on your blog (and another, and another…)
Subscribing to your newsletter
Adding a product to a cart
Reviewing technical specifications or product pages
Viewing a video
Downloading an ebook or other educational material
Conversion Rate is just the percentage of people visiting your website that do something you want them to do.
Calculating conversion rate is straightforward:

Just as it sounds, Conversion Rate Optimization is maximizing the number of conversions you get from a pool of website visits.
Wikipedia offers a more detailed definition:
"Conversion rate optimization (CRO) is a system for increasing the percentage of visitors to a website that convert into customers,or more generally, take any desired action on a webpage. It is commonly referred to as CRO."
8 conversion rate optimization best practices
Increasing conversion rate, even a little bit, can have a significant impact on your revenue. Here are 8 best practices you can use to begin boosting website conversions, and revenue, right now.
1. Make your CTAs very specific
A call to action (CTA) is copy that requests an immediate response from your website visitors. They may lead to a macro conversion like "buy now" or a micro conversion like "learn more". CTA copy may include the words on the actual button as well those immediately around it.
CTAs are incredibly important to conversion, so our first four CRO best practices are all about making them great.
And the first way to do it is to create very specific CTAs. Your CTA copy should tell the reader exactly what to expect.
For example, instead of "Read On", consider, "Download the full guide now for free". Instead of "Get started", try "Start your 14-day trial now".
2. Eliminate fear in your CTA
Fear is a significant deterrent to taking action. Your CTA copy should ease your customers' most common fears.
If you offer a subscription service, include the copy "30-day money-back guarantee" in your CTA. If you offer a free trial, add "no credit card needed" below your "Start your 14-day free trial" button.
3. Make your CTA stand out
Since your CTA is the most important element of your landing page, it deserves some special treatment to get all eyes on it.
To get there:
Use a contrasting color that is reserved only for your CTA.
Surround your CTA with plenty of whitespace so it stands out
4. Make your CTA a button (not a standard link)
We humans are hardwired to recognize patterns and understand repetitive processes. Buttons have become the standard for CTAs. So while escaping the box of sameness is great in many areas, this is not one of them.
Look over this example CTA from the Matcha, which includes all four of these elements: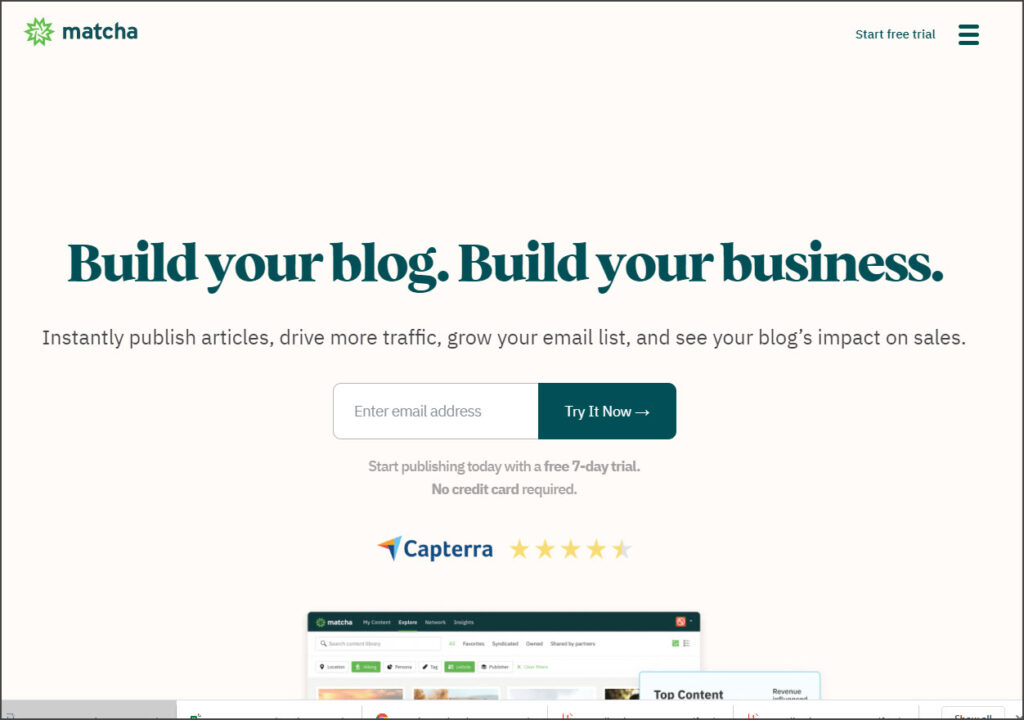 5. Make your headline crystal clear
Now that your CTAs are highly tuned tools of conversion, let's look at the copy on your landing page.
Ideally, you want a website visitor to know three things within 10 seconds of landing on your website:
What you do
Who you do it for
Why it's useful for them
Your headline is where this happens. The tendency in your headline is to be clever or to try and boil everything down to three words.
Avoid that temptation.
Clever and concise copy is a great thing, but not if it leaves your visitor wondering what the heck you actually do. Or why they should care. Remember, simplicity sells!
6. Add social proof
Until they really get to know you, people will trust other people more than your business. That's a powerful fact you can leverage by adding social proof to your landing page.
Social proof can come in many forms. The most obvious is customer testimonials. If possible, add customer names, titles, company names, and a photo; the more detail you provide the more relatable that testimonial will be.
Another powerful form of social proof is based on the "Wisdom of Crowds" theory. Basically, when humans see a lot of people doing something, they're more confident in doing it themselves.
Use numbers here and be specific. If you have an impressive customer base, let your website visitors know that "26,153 recruiters find more talent faster with our software."
Finally, if you sell to other businesses, don't be shy about name dropping. Add logos of those companies that are most relevant to your target customer right on your homepage.
Here's an example from Marketo. Their landing page quickly explains the benefit of what they do and who it is for. They've also included multiple types of social proof.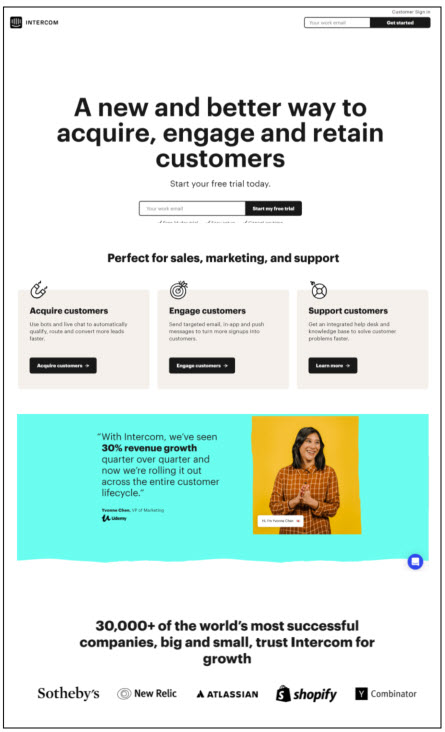 7. Create authentic urgency
If you only have 10 of that new product left, let your visitor know. If you're ending a free trial or only accepting five new clients, say it. Urgency is an incredible motivator to take action.
Another great place to use urgency is around holidays. Holiday sales have a natural expiration date.
But make sure the urgency you promote is authentic. DO NOT put up a bogus 24-hour countdown timer that continually resets. People will associate your brand with fakeness.
Booking.com might just be the champion of creating a sense of urgency. Look at this listing for a hotel room in Atlanta. Not only do they tell you there are only five rooms left, but they let you know that three rooms were booked in just the last six hours. Better hurry!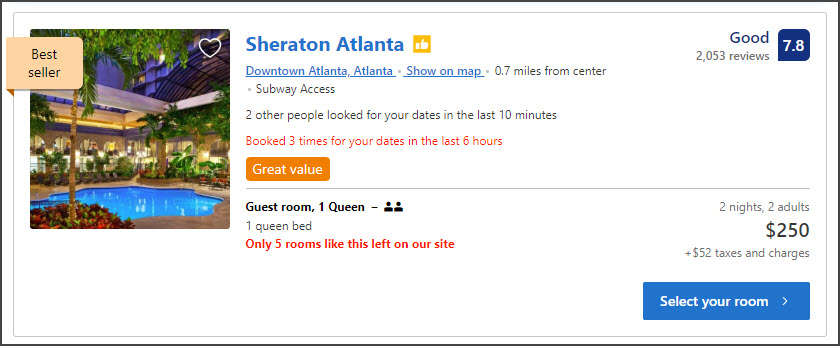 8. Make your contact details easy to find
Our last best practice is the simplest. Maybe that's why it's also often overlooked.
Some percentage of your website visitors are ready to take the next step and call or email you. Can they do it without friction?
If you do business in person, make 100% sure your contact details, or at least a clear link to them, are easy to find on your home page. If it's possible to text on your contact number, say so. People are often more willing to send a text than call.
If you only do business online, like an ecommerce store, you should still have a contact page that's readily available. It shortens the distance between your company and your customer.
---
Getting people to your website is an increasingly costly and challenging endeavor. If you're not optimizing the conversion rate of those visitors, you're leaving serious cash on the table.

You may be able to boost your conversion rate and increase revenue, with a few simple best practices.
Of course, there are a hundred other tactics you can use to get more people to take the next step. And we've worked with them all. So when you're ready to take CRO to the next level, contact us and we'll show you how.
Ready to start your project?
Download Our Free Guide - "Content That Connects"
A fresh look at content should be the starting point for anyone beginning a website project - whether it be a website refresh or a new site.
Download "Content That Connects," and you'll receive a full guide to getting started with your website project by looking at your content. You'll learn how to talk about your business, your services, and your value. All of this will help you think through the strategy behind your website.