You've just launched your new website. It's a beauty! Responsive, mobile-friendly, clear calls to action.
And boy is it set up for SEO. The site maps are up, tags in place, and keywords thoughtfully peppered through each title. Your work is done.
Or is it?
The reality is that technical SEO on your website is just step one if you hope to rank high in search results.
Step two is launching your blog. Why? Because many of the factors Google considers most important for page ranking are influenced by a blog more than by technical SEO.
Consider this chart of Google ranking factor influence from Quick Sprout: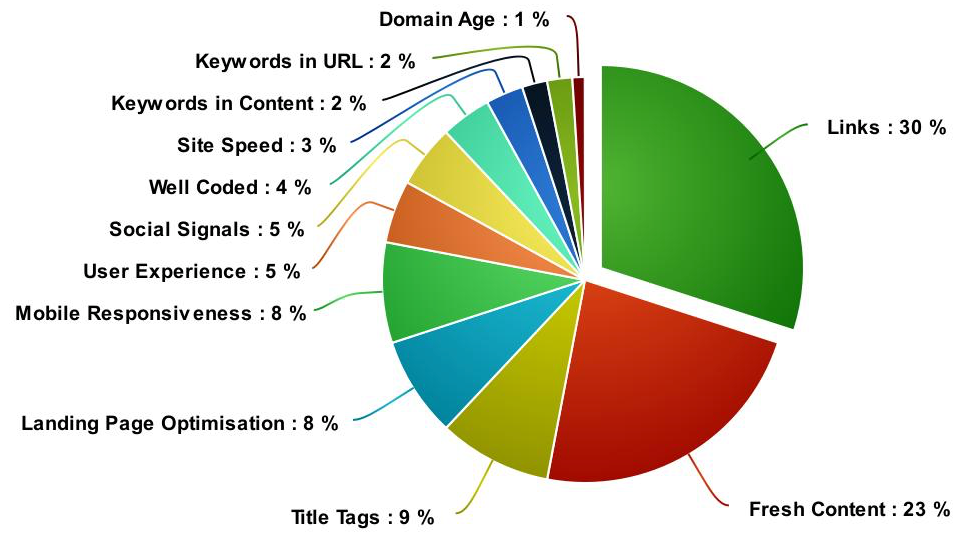 Links and fresh content alone account for over 50%. These are things you'll be chasing long after your website is launched.
They're also things a blog is really good at. Actually, there are several ranking factors a blog can help with. We've gathered up five ways a blog will help your new website land high up on search engine results pages.
But before we get into how a blog helps with SEO, let's get two things straight:
Google will probably never buy anything from you.
Google's aim is to make sure its users find good answers quickly and efficiently.
What's this mean to us?
Any SEO strategy, including blogging, should be done first and foremost for the humans that use Google, not for an algorithm. If you're helping Google help their users, they'll reward you with higher search page placement.
With that in mind, let's look at five ways a blog can help you achieve better rankings on Google.
1. A blog increases backlink and internal link potential
According to the chart we shared, links to your site have a huge influence over page ranking.
There are two kinds of links to consider. Just in case these terms are new to you:
Internal links are when you link from one page of your website to another page of your website.
Backlinks are inbound links from other websites to yours.
Google loves both.
Internal links help the Google bot understand your site structure and how pieces of content are related. They show your authority on a particular topic.
Some internal links are considered more valuable by Google, and the whole internal link strategy can get pretty deep. Generally speaking, though, more links are good. And publishing new blog content gives you lots of opportunities to link to pages throughout your site.
Backlinks are even more powerful. When Google sees backlinks to your site, especially from a popular, high-authority website, it assumes your site is also trustworthy.
"Backlinks are especially valuable for SEO because they represent a 'vote of confidence' from one site to another."
– Moz.com
Getting those high-authority sites backlinking to yours can be tough. But publish a great article about an important topic and those site owners gladly do it (kind of like the Moz article we just linked to).
2. A blog keeps your website fresh
Google wants to make sure its users are getting up-to-date answers to their questions. So they give priority to websites that are updated often.
It would be awkward, and unwise, to change your landing page copy twice a week. Publishing fresh content to your blog is a much better way to show Google your website is tended to and updated.
Publishing new content is also a trigger for Google's web crawlers to index your site more often. This doesn't help you climb the rankings on its own. Your content has to be good, as judged by your audience.
3. Good content improves traffic and dwell time on your site
This one is pretty simple.
Google wants to know that your site is good at answering questions.
How do they know? By how your audience interacts with your website.
If lots of people visit your site (traffic), stick around awhile (dwell time), and continue past the first page they hit (bounce rate), Google will know that your site is useful to its users.
When you publish great blog posts that answer questions well, all that will happen.
"Focus on 'dwell time' (how long site visitors spend with your content), rather than vanity metrics like pageviews. Creating quality content is extremely important because Google cares about how deep people navigate into your site, whether they hit the back button, and worst of all, whether they return to the search results page because they didn't find the information they were looking for."
– John Lister, Strategist at Elite SEM
4. A blog helps you rank for keywords
When many people think SEO, this is often what comes to mind. Having words on your site that match what people search for on Google increases your chance of ranking high on search pages.
No dirty tricks, though.
Gone are the days of adding hidden pages full of keywords you want to rank for (also called 'keyword stuffing'). Google is hip to that trick, and most other 'black hat' SEO tactics.
But there are only so many opportunities to organically use keywords on your landing pages. So how do you increase the frequency of keywords on your site without being shady?
Content!
Yep, publish content on the topics you want to rank for. Let's say you run a staffing business and are launching a new employee retention and training product for small businesses. You want to show up on searches like "How can I reduce employee churn?"
So you publish an article called "Reduce Employee Churn with these 10 tips."
Then, use that term organically throughout the post— especially in your headers and first and last paragraphs.
5. A blog improves your website's social signals
Like bounce rate and traffic, Google uses social signals to decide if your site is valuable to its users.
Social signals are likes, shares, retweets, and comments on your social media posts.
So, how do I post things that will get more of these social signals?
Before you post anything, consider people's intent, or mindset, while they're on social media. It's different than when they're using a search engine.
Here's what we mean.
On search engines, people are looking for information to solve problems and make decisions.
On social media, they're hanging out with friends, catching up with relatives, and watching funny videos. In short, they're avoiding making decisions.
Think of it this way. You're having a drink with your friends at your favorite watering hole, talking about cars. A salesperson walks up, interrupts your conversation, and starts telling you how awesome his car dealership is and why you should buy a new Toyota.
Yuck! (no offence to Toyotas. They're fine cars)
That's how an overabundance of product ads can feel on social media.
Instead of interrupting the conversation, join it.
Your blog posts, the ones that offered really helpful information, are the perfect way to do it. Target people that love cars who live in Denver and publish a paid post to Facebook about the 10 best auto shows in Colorado.
Not only will you gather social signals, but you'll establish your business as a helpful resource to your target audience.
---
Great website design is a critical first step in ranking well on search engine results pages. But the work doesn't stop there.
A B2B blog is the next best step in a successful SEO strategy. Its benefits for the most influential search engine ranking factors are long-term and compounding.
But for it to work, that content needs to be good.
Great news! We can help. You can start by downloading our guide on content that converts.
Even better, contact us and we'll help you launch a blog that drives traffic, generates leads, and grows sales. Yep, we do that!
Ready to start your project?
Download Our Free Guide - "Content That Connects"
A fresh look at content should be the starting point for anyone beginning a website project - whether it be a website refresh or a new site.
Download "Content That Connects," and you'll receive a full guide to getting started with your website project by looking at your content. You'll learn how to talk about your business, your services, and your value. All of this will help you think through the strategy behind your website.